Driving tips for your pre or post self-guided trip in Ireland
Drive on the left!
Yes, it's obvious. Yes, everyone is doing it. But if you're used to driving on the right, it's easy to fall into old habits first thing in the morning, after a lunch stop, or pulling back onto a quiet country road after taking that latest awesome photo.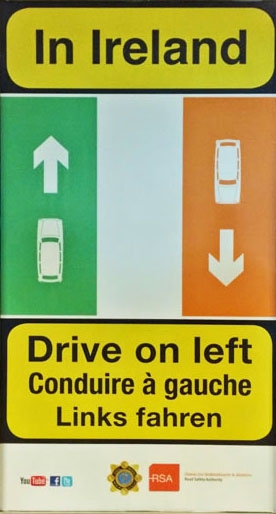 Heed the speed limits
The speed limit on most regional (R) roads is 80kph/50mph, on national (N) roads 100kph/62mph, and on motorways (M) 120kph/75mph. In towns, the limit is 50kph/30mph.
Get a good map
Irish motorways are straightforward. Country roads ... not so much. That's why it's a good idea to have a reliable map (such as those availble for purchase in Tourist Information Offices) or GPS in the glove box before you set off on your Ireland road trip.
Safety first
Whilst Ireland's roads are improving all the time, N and R routes can still be thin and bumpy, prone to ice in winter, and may not have hard shoulders. For many drivers, of course, that's all part of the charm. But it's wise to adapt your speed to the circumstances.
The tractor factor
No matter how meticulous your plans, the chance of chugging along at 20mph behind a tractor, or being held to a standstill by a herd of sheep or cattle, is always there. It's nothing to worry about (it may even make your trip), just be aware that it may occur! Remember to only pass when the road ahead is fully clear.
Park smart
You'll rarely have to pay to park in the Irish countryside, but pay-and-display charges are commonplace in towns and cities. Keep some coins handy for the meters, and remember to check the signs indicating times during which on-street parking is charged. If you ignore the parking regulations expect to be clamped - that is, you'll return to find your car with a boot on one of the wheels and this can only be released upon payment of a hefty fine. Your car might even be towed!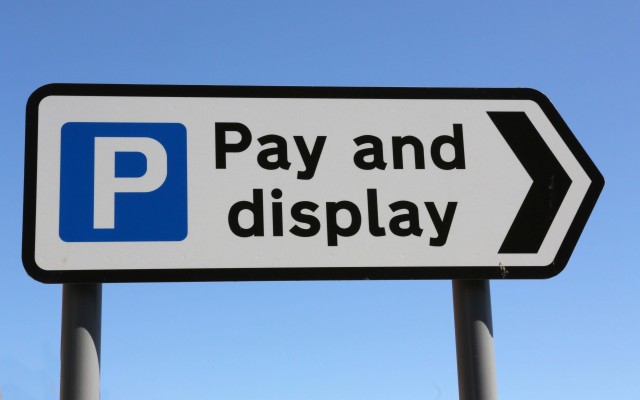 Car rental tips
Most rental cars in Ireland are manual transmission, so if you prefer to drive automatic, stipulate this when booking. Rental companies provide numbers to call if you need breakdown assistance, and fuel tanks should be returned as full as you receive them. We recommend renting the smallest possible car to meet your needs. Our preferred rental car companies include Avis, Hertz, Budget/Sixt and Europcar. We do not recommend Dan Dooley Rent-A-Car. It is always advisable to take out full insurance with a zero-deductible.
Don't forget
When driving in Ireland, you need to carry a valid licence as well as insurance and vehicle registration documentation. It's also illegal to hold a mobile phone when driving, so keep those calls, tweets, texts and Facebook updates for when you're safely pulled in!
Fill up
There are very few online services on Irish motorways, and petrol stations can be irregular between towns. Keep your tank topped up! Be sure to check what type of fuel your rental car requires; most of the smallest cars take petrol (gas) while frequently you may be assigned a car with a diesel engine. At the gas station you can identify easily which pump is which: yellow/black is diesel while green/black is petrol (gasoline).
Tolls
Around Dublin you will very likely drive on the notorious M50 ring road from which you can access all roads heading north, south, east and west. There is an electronic toll on this road which must be paid within 48 hours. It can be paid at most gas stations and news agents. You simply notify the assistant of your registration number (e.g. 172-D-12345) and pay the toll for however many trips you have taken. Other toll roads exist around the country but these can be paid on the roads themselves.
Need to know
In case of accident or emergency, call 999 or 112.