Fresh Eire Adventures Pro Rides Bike Tours have been designed with one thing in mind. We're obsessed with cycling and following our top pro cycling races like the Tour de France, Giro and Vuelta. These bikes trips are for our fellow addicts and offer our riders the thrill of the climb, the assurance of support and the luxury of a complete tour package.
Dates French Alps Pro Rides | Prices French Alps Pro Rides | Included French Alps Pro Rides | Extras French Alps Pro Rides
Our Fresh Eire Adventures Bike Trip of the French Alps is fully supported. This Pro Ride vacation of France offers classic climbs from le Tour de France and covers mythical terrain where the sport's champions have shown off their incredible talents. Our first base, La Giettaz, is right at the heart of it, located only 4km from the famous Col des Aravis, which has featured on the route of Le Tour de France no less than 40 times, most recently in 2016. Chalet La Giettaz is an ideal base for cyclists of all levels who wish to experience these iconic mountain roads for themselves. The area is also hugely popular with amateur and leisure cyclists. We can modify routes, and alter daily distances and climbs. Below is a suggested itinerary with some of our favourite routes but we also have one or two super secret routes that we can blow you away with - these can be discussed with your group once you have reserved you trip and we have a general idea of your groups ability and preferences.
Itinerary
Day 1: Megeve loop (55km, c.1350m ascent)
We advise groups to travel a day in advance of our meeting day, especially if undertaking transatlantic flights, to acclimate.
On our first morning, we'll meet meet your group at either Lyon or Geneva airports, or at a local train station and transfer to our home for the next three night, Chalet La Giettaz, in the heart of the French Alps. Upon arrival we'll enjoy a welcome lunch (two courses) before getting changed into our bike gear. Those guests who have brought their own bikes along will assemble them, while those using our bikes will be fitted to them. After a quick safety talk and a route review we'll take off on an afternoon 55km spin stopping for a coffee in nearby Megeve, 15km away. Plenty of hills today to warm up and get used to the terrain; this ride will serve as a sampler of what to expect for the week ahead. While we expect everyone to easily complete the ride within 4 hours we'll ensure everyone will return to the Chalet in plenty of time to use the on site spa faciities before meeting for dinner.
Situated on the lower level of the complex, the spa area has a large hot tub and a sauna, as well as private showers and changing rooms. A leisurely soak in the hot tub or a lazy stretch in the sauna is a great way to revitalise tired muscles following a hard day in the saddle, ready for the next day's activities. Bathrobes and slippers are provided to all guests at the start of your holiday, and additional towels are available in the spa area. Each party of guests is able to reserve exclusive use of the spa area, ensuring a completely private relaxation experience for our group, and we can arrange for local massage therapists to visit you on-site.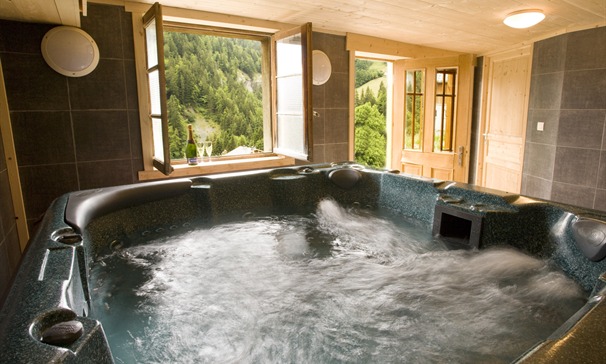 Typically we'll arrange to meet for a pre-dinner drink in the chalet bar around 7.30pm during which we'll present an overview of the week ahead. We'll then enjoy a hearty informal 3-course dinner together.
Included meals: lunch, dinner
Hotel: Chalet La Giettaz
Day 2: Lake Annecy, Col des Aravis loop (90km, c.1700m ascent)
On each morning of your stay at La Giettaz, a delivery of fresh bread and croissants will arrive at your door, so there's no hurry for you to get out of your comfy bathrobe and slippers. No matter which apartment you are staying in, you are guaranteed a fantastic view of the valley to gaze upon while you enjoy your breakfast. We'll be supplying each apartment with cereal, bacon and eggs, as well as tea, coffee, orange juice and milk.
For our second day's ride, we'll complete a loop ride first of all descending Col de Aravis (don't worry, we'll get to do the climb on the way back up!)
Tonight we'll have dinner in nearby Megeve.
Included meals: breakfast, lunch, dinner
Hotel: Chalet La Giettaz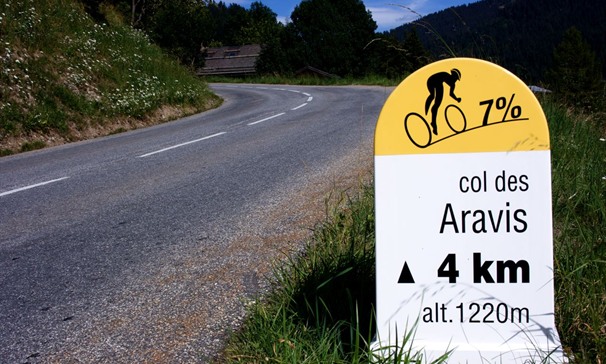 Day 3: Col de la Colombiere (60km, c.1600m ascent)
On our third morning together, after an early breakfast, we head off on a technically difficult (but not actually al that high) of a ride which will see us conquer Col de la Colombiere. This climb has been featured over 20 times in the Tour de France, most recently in 2016. Dinner tonight will be our final dinner at Chalet La Giettaz. Weather permitting we shall enjoy a barbecue overlooking the magnificent Alpine setting.
Included meals: breakfast, lunch, dinner
Hotel: Chalet La Giettaz

Day 4: Le Giettaz - Bourg d'Oisans (166km, c.1100m ascent)
On our fourth morning we leave Chalet La Giettaz and say farewell to our hosts Chris and Miranda. While today is a long distance at over 160km / 103 miles, it is for the most part either downhill or flat. Nevertheless, a century in the Alps is not to be sneered at!
While we are changing hotels today, we don't expect you do much in the way of heavy lifting or lugging of your baggage. Please bring your labelled baggage downstairs and we'll transfer it to your next hotel; the next time you'll see it will be in your room when you arrive in Bourg d'Oisans.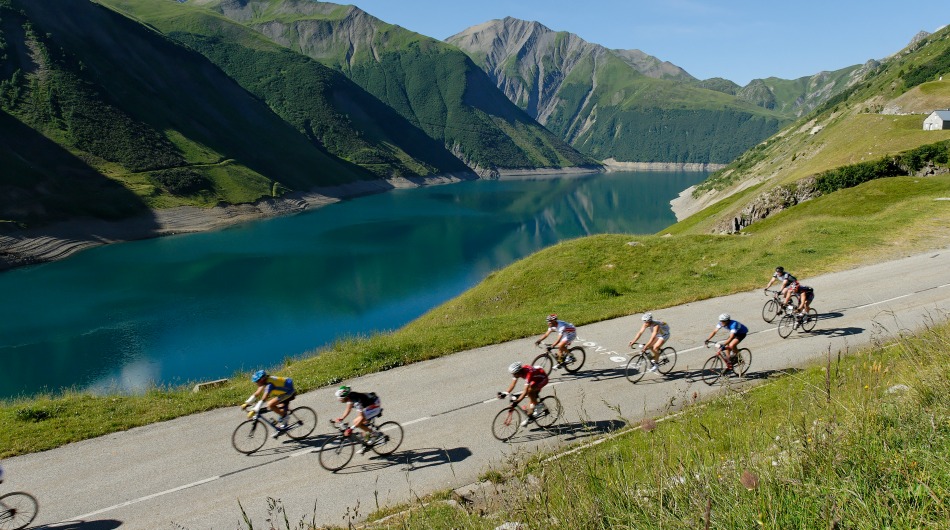 Tonight we'll dine together as a group in a small restaurant in the centre of the town; expect to meet lots of other cyclists who will be passing through. We recommend a good nights sleep tonight; tomorrow is our biggest challenge of the week.
Included meals: breakfast, lunch, dinner
Hotel: Hotel l'Oberland
Day 5: Alpe d'Huez loop (40km, c.1800 metres ascent)
Our fifth day's ride is outstanding! After a hearty breakfast in the garden (weather permitting of course!) we shall set off for our biggest challenge of the week - the mighty Alp d'Huez.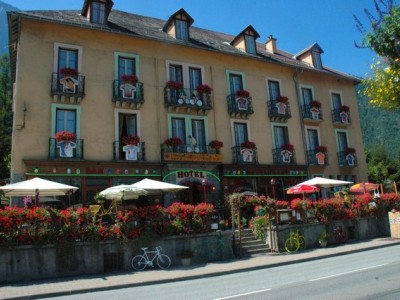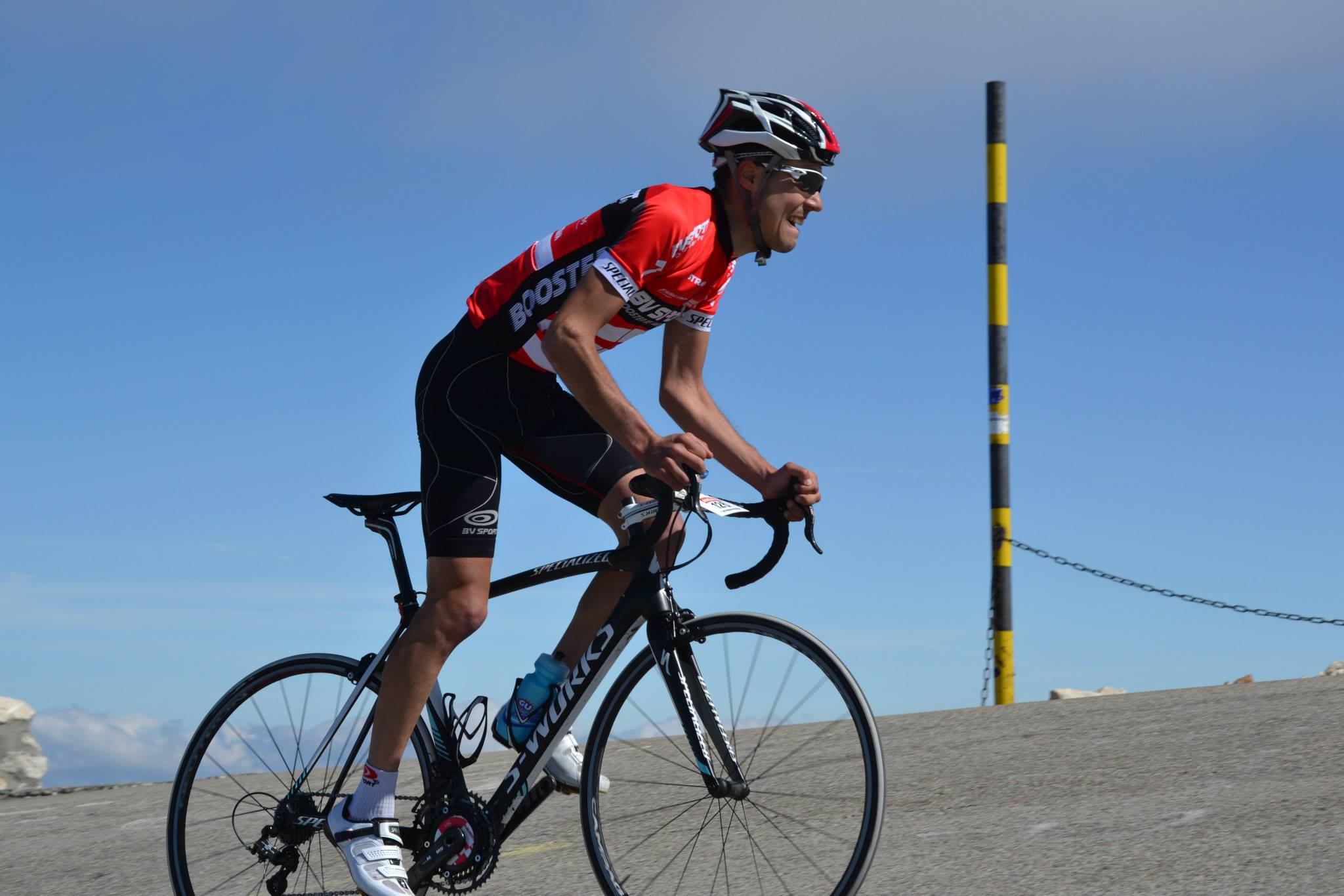 Tonight we'll have a delicious Provençale dinner together one last time in a restaurant in the village.
Included meals: breakfast, lunch, dinner
Hotel: Hotel l'Oberland
Day 6: Ventoux loop (60km, c.1800m ascent)
This morning, after breakfast, we check out of our hotel and shuttle you to Capentras. Here we will start our ride, our final challenge of the week; the mighty Ventoux.
The trip ends with a beer toasting your week with us. We will then shuttle you to Avignon where we suggest the group overnights (not included) before traveling onward the next day.

---
Dates French Alps Pro Rides
Typically our tours would run from Sunday – Friday.
Any start dates available upon request (subject to availability)
Prices French Alps Pro Rides
US $3,295 pps, mimimum 12 participants. US$500 single supplement.
Included French Alps Pro Rides
Use of carbon road bike and helmet. More about our bikes
One Group Transfer to hub / centre on start day
One Group Transfer from end point on final day
5 x 3 course dinners (drinks not included)
5 x 2 course lunches (drinks not included)
Baggage transfers
Tips for hotels & restaurants
Healthy snacks, water, full guiding services, support vehicle.
5 nights B&B in 2&3 star hotels and inns, with private bathrooms & continental breakfast
Extras French Alps Pro Rides
Bring your own bike at extra cost. More information
Self-Guided Extension packages available in Paris (3 nights, 4 star from US$1295 pps)
Individual (non-group) transfers
Gratuities for guides