Our guides
Meet the experienced and professional Fresh Eire Adventures team
Jochem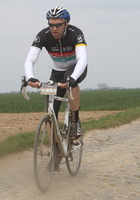 Jochem is an avid cyclist and proudly born and raised in the heart of Holland. During his university studies in both Utrecht and Amsterdam (Geography & American Studies), he founded an IT company which is still flourishing to this day. He decided to sell his shares and follow his true passion, cycling and telling people about the rich history of Holland, it's origins and it's traditions. As a cyclist Jochem has climbed many 'hors catégorie' mountains all over Europe, but his true love is Paris - Roubaix.
Clément
Living in the French countryside near Montpellier in the south of France, but originally from St-Lo in the northwest, Clement is a flautist extraordinaire and is an accomplished piano and guitar player to boot. Currently training to be a sound technician he lives in a big house in the countryside near "Les Cévennes" a beautiful area next to Montpellier near Spain, Italy, the Pyrénnées mountains and the Mediterrannean sea. A keen cook he, like most French people, loves food and wine and discovering new flavours. When he is not leading bike trips for Fresh Eire Adventures during the summer Clément teaches music in a secondary school. A keen and strong cyclist he has traveled through most of France but his favourite regions include Provence, the Loire Valley, Burgundy and his native Normandy.
Simon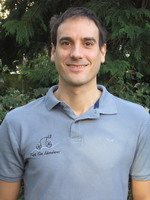 Simon has a passion for the outdoors and spends his free time swimming in the ocean, mountain bike racing, and exploring hills by foot and by bike. His ideal holiday is being able to tour on bicycle and he has done so throughout Europe. He has always been interested in the environment and studied geography in university. He background includes working as a tour guide bringing Italian groups through Ireland during summers and also working in the trade office of the Italian Embassy where he organized and looked after trade delegations coming into Ireland. Currently, in addition to guiding, he also works for a film production company which takes him throughout Ireland on location. A keen biker his main passion is mountain biking through Ireland's fantastic off-road trails. When not cycling, Simon love going to concerts, cooking and entertaining friends, both old and new.
Tim

Tim is very excited to be working with the team on the new Fresh Eire Adventures tour in New Zealand and Western Australia. He has been guiding cycle tours for nearly 20 years as well as being involved in tour operations, cycle tour creation and marketing. Having guided tours throughout New Zealand, Australia, Vietnam, Italy, Japan & the USA, Tim still feels that the West Coast of the South Island, recognized as one of the top five touring routes in the world, is his favorite route. The very isolated region combines quality lodgings and food of a very high standard, with amazing scenery as the road travels between the mountains and the sea.
Sarah

Following in the footsteps of Jonathon Swift, Bram Stoker and Samuel Beckett, Sarah moved from the Irish midlands to study Arts in Trinity College Dublin when she was a teenager. To date, this may be the sum total of the similarities between Sarah and the Irish literary greats, but Trinity was - at the very least - an apt place for her to nourish her lifelong passion for luminous literature. Having lived and worked in New York and South Korea, Sarah then qualified as an English as a Foreign Language teacher in Dublin and found immense job satisfaction in this role of facilitating students from places as diverse as Brazil, India and Saudi Arabia. Sarah currently works in the social care sector in Dublin and her globetrotting and academic ambitions are alive and well.
Janet

Janet is an experienced tour guide, having guided tours in Ireland, France and the UK for over 10 years. Her main interests are cycling, golf and hiking, and she has an incredible knowledge of the best locations in Ireland for all of these activities. She believes that getting to know the locals is a very important part of any tour in Ireland, and makes sure to visit those off the beaten track places where a real Irish experience can be had. Janet hails from Dublin, but lives in County Clare on the west coast of Ireland. She is a member of Lahinch Golf Club, one of the top 10 golf courses in Ireland, and is a fluent French and German speaker.
Padraic

Padraic has been leading tours for well over a decade in Ireland, France, Holland, Spain, Croatia, Germany, Austria, Czech Republic, Argentina and Scotland and never tires of the endless adventure. "Every new person you meet is like a doorway into another world", he claims, and although he set up Fresh Eire Adventures with the goal of building up a new business (he is a Managing Director with no fear of getting his hands dirty!), he hopes to continue leading as many tours as possible.
Padraic is a life long biker and a true gourmand, and has a wide range of interests from politics to the arts and - of course - adventure travel. He has lived in Ireland, the UK, the USA, Australia and Argentina and has been described by some guests as a true 'Renaissance Man', having had a career which has included stints in sectors as diverse as International Banking, Journalism and Law. He found his true passion in tourism in his late 20s quite by accident - "it was staring me in the face all the time; I couldn't see the florist for the flowers!", he quips. Having cast aside the shackles of the corporate cubicle, his office is now the great outdoors of Connemara, Provence, Lombardy, the Maipu Valley...
Stefano

Stefano has been traveling around the world for 8 years and has a lot of experience in the tourism business. He started as a diving instructor in Honduras, and has enjoyed great adventures in Costa Rica, Panama, Nicaragua, on the amazing islands of Galapagos in Ecuador, Egypt, Canary Islands and Andalusia. He then spent years in Mexico where he became a trips organizer. One of the best tour he managed at that time was a whale shark tour. After many years around the world, unperturbed by the whale sharks, he returned to Italy and is now back in the bike saddle! Stefano is a lover of travel and fun, and is ready to share with everyone his knowledge of his beloved Lombardy.
Marcello

Marcello is a passionate biker. Since he discovered cycling as a way of traveling he has been cycling - together with Serena, his beautiful companion - throughout Holland, Belgium, France, Croatia and Ireland. Lombardy, his home, remains his favourite place to bike and he can't wait to share his native homeland with you. Marcello is also a passionate home-cook and a gourmand and he'll be glad to share all his knowledge about Italian cuisine and culture. Moreover he is an expert on Italian society, and is a qualified social-worker.
Jean

Jean is an extremely resourceful and well-traveled French man! Mature beyond his 22 years, he has traveled through South America, Australia and has, at one point or another, spent a lot of his free time in the European countries neighboring his native France. He is currently studying languages at University in his hometown of Paris and has led tours in Ireland, Wales, England and France with a view of making Tourism his career of choice. Being French, Jean (naturally!) has an almost encyclopedic knowledge of food and wine. As passionate about the outdoors as he is about the people he meets, you'll be entertained and charmed by him in equal measure!
Jonny

Jonathan (Jonny to his friends) is a true Connemara native but his experience of Ireland and the world stretches beyond the majestic beauty of the west coast of Ireland. Jonny has studied Marine Biology at The National University of Ireland in Galway city and, blessed with an adventurous spirit (passed on from his parents; a Goldsmith and a Marine Biologist), he has traveled extensively in South America, South Africa, Asia and Europe. Jonny is a keen cyclist, gourmand and loves water sports such as kayaking, sailing and surfing. A real 'people person', Jonny loves to meet new friends and to show them around his locality. Join him on your next Fresh Eire Adventure!

3 weeks ago. via Facebook • 1 retweet