New Zealand's South Island Bike Tour

Discover the incredible South Island on a New Zealand Bike Tour with local guides. Visit Christchurch; Queenstown. Stay in eco-lodges and enjoy fantastic wines from the Malborough region. Remote - that's one word to describe this wonderful land. Worth the effort? Certainly! This is a very new country which attracted its first inhabitants only 1,200 years ago and on your South Island Adventure you will experience the reasons why they stayed.
Dates South Island | Prices South Island | Included South Island | Extras South Island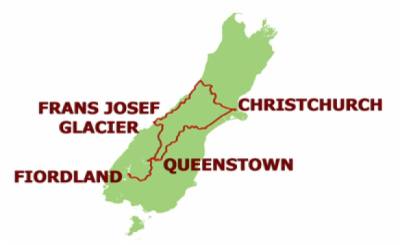 From beautiful, tragic Christchurch, the TranzAlpine Railway, the vineyards of Otago, the Moeraki Boulders, Franz Josef Glacier to Mount Aspiring National Park, and finishing up in Queenstown, you will have sampled the very best of the South Island.
This is an activity-based tour intended to be relaxing and fun. We don't place a huge emphasis on covering great distances by bike; we will be offering transfers and average daily biking is around 30 miles. The South Island climate can be challenging in January and February. Expect temperatures to range from the mid 70s to low 90s, sometimes even higher. Don't be surprised by the occasional rain shower.
Itinerary
Day 1
Our tour begins in Christchurch, a beautiful city which was struck by a devastating earthquake in February 2011. Considerable damage was done to the city centre and many notable buildings were very badly damaged. Many tours operators have pulled out of the city while it is being reconstructed, but Fresh Eire Adventures has chosen to support our colleagues and partners in tourism. Consequently, we stay only one day and night in Christchurch, during which time we will meet with a local historian who will make the city's relatively short history come alive and prepare you for some of the sights which will be coming later during our week together. We have taken over US$300 off the price of this tour and, for each new booking, we will donate US$100 towards the Christchurch Cathedral restoration fund.
We meet at lunchtime on our first day (always a Sunday), at our hotel Carlton Mill (a basic 3 star property; our usual property has been closed since the earthquake) on Hagley Park in the city centre. We'll have a light lunch together, sample our first New Zealand Sauvignon Blanc, and then get fitted to our bikes. We'll then take a short warm-up ride around the city and through the parks before returning to our hotel to freshen up for a pre-dinner cocktail. Dinner tonight is a wonderful experience.
On our first night together we will dine at the remarkable Curator's House, a heritage home in the Botanic Gardens. This is a unique, renowned fine dining experience and the restaurant focuses on fresh quality local New Zealand produce. Owner, Javier Garcia, believes the quality of the basic ingredients is fundamental in producing great, flavorsome and honest food. This philosophy is reflected by their fruit and vegetable garden; its integration into the design and cuisine of the restaurant as well as the dedication to running the business under the principles of environmental sustainability. We'll also be sampling some exquisite local organic wines with our meal. Today will be a long day so tonight will not be a late night - we have an early start on Day 2!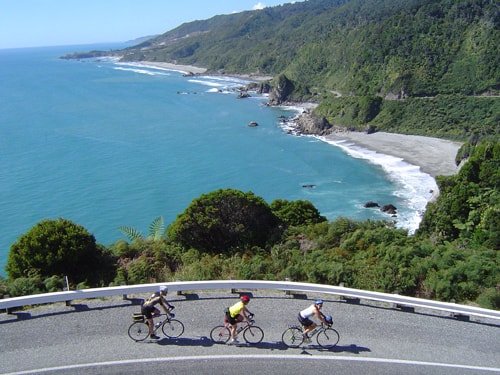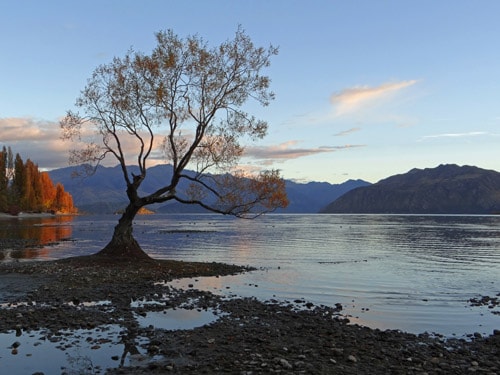 Day 2
We will have breakfast together on Day 2 at 6.30 am – the earliest start of the week! Today we take the TranzAlpine train from Christchurch, across the Southern Alps, towards the Tasman Sea on the west coast. This epic journey is one of the most scenic train journeys in the world and passes through 19 tunnels, numerous viaducts and bridges, over gorges and clear Alpine rivers near Arthur's Pass.
We will disembark the train just after 3 hours aboard having passed Arthur's Pass, at Jacksons, ready for biking, straight from the train station! Today's ride takes us from Jacksons towards Lake Brunner (Moana Kotuku) before we shuttle to the charming gold rush town of Hokitka where we will stay for one night in a beachfront hotel.
Day 3 & 4
Our third day together, we will ride to Franz Josef Glacier, while on our fourth day, we ride to Fox Glacier and then onward to Lake Moeraki. Both Franz Josef and Fox are exactly what you expect glaciers to be - mighty frozen rivers rushing down a valley towards the sea. Nowhere else on the planet at his latitude, have glaciers advanced so close to the sea. You can opt for for a hike on the glaciers or you can (at an extra charge) opt for a helicopter ride over the glaciers for the ultimate sightseeing adventure!

Day 5
After breakfast on our fifth day, we will shuttle along the dramatic cliffs along the Tasman Sea coastline and from Haast Visitor's Center, cycle beside the clear river as you travel east toward Haast Pass (the Pass is named after the river), down into the Makarora valley, through the breathtaking Mount Aspiring National Park. Tonight you will have a true authentic New Zealand experience – you will stay with a local family on a farm and enjoy Kiwi hospitality first hand!
Day 6
After a hearty farm breakfast on our final day in the saddle, we'll ride to Cromwell where we'll enjoy lunch and then shuttle to Queenstown. We will arrive in Queenstown with ample time for a look around in the late afternoon before meeting up for a final cocktail and dinner together. Queenstown is a paradise for adrenaline junkies - everything from mountain biking, micro-lighting, zorbing, waterskiing, hang-gliding to bungee jumping; it's all available here. Tonight's dinner is at a local fun restaurant in the centre of Queenstown – no possum pie here!
Day 7
After our final breakfast together, we will transfer you to the airport for either your journey home or to continue your adventure.

---
Dates South Island
Any start dates available upon request (subject to availability)
Prices South Island
Classic: From - US $6,995 pps. Single supplement US$800
NOTE: Christmas and New Years (from mid Dec tthrough mid Jan) are at a premium of US$1000 pps
Included South Island
Use of hybrid bike and helmet. More about our bikes
5 authentic dinners & wines
5 lunches & wines
Admissions to all included attractions & tastings
Baggage transfers
Tips for hotels/restaurants
Healthy snacks, water, full guiding services, support vehicle.
6 nights accommodation - 5 nights B&B in 3 & 4 star hotels (Classic) with continental breakfast
Transfers to / from Christchurch
Extras South Island
Upgrade to a carbon road bike or e-bike at extra cost. More about our bikes
Self-Guided Extension packages available in Auckland, Sydney, Perth or Melbourne (3 nights from as low as $1299 pps; flights not included).
Gratuities for guides
Your flights to Christchurch and from Queenstown (tour starts Christchurch and ends in Queenstown)
Travel Insurance
Vaccinations
Visas
Air Travel South Island
Christchurch has a mid-sized efficient international airport. Most flights from the USA and Canada however are via Auckland International, a much larger airport but very easy to navigate.
From your home country it is advisable to travel into Auckland and take then take a flight to Christchurch. Air New Zealand is our preferred operator on the Auckland – Christchurch route and we highly recommend them.
If availing of an extension (see below) then we advise you to explore the Open Jaw airfares many airlines offer (eg. fly into one airport and out of another) so that you can maximize your time on vacation and not double back on yourself.
Another option might be to investigate Round The World airfares; these offer excellent value for money and require that you keep moving in the same direction. Sample routing might be: New York – Los Angeles – Christchurch – Sydney – Perth – Bangkok – London – New York. Surprisingly, sometimes these fares work out cheaper than standard round-trip fares to New Zealand, especially when you factor in additional internal flights. It's also a great way to build up your airmiles! The One World Alliance for example (featuring British Airways, American Airlines and Qantas) and Star Alliance (featuring Air New Zealand, United, Continental, Air Canada, Thai Airways) make the experience as seamless as possible.
Australia/New Zealand tour combinations
Combine two or three tours in Australia or New Zealand and receive US$500 discount for two tours, or US$800 discount for three tours.
Take up to 10 days between the end of one tour and the start of the next - this allows ample time for some independent travel or sightseeing.
Extensions South Island
Extensions can be arranged in advance, for either before or after the trip, which includes excellent accommodations and detailed itineraries. We have Guides available in Auckland, Sydney, Melbourne & Perth. These Guides are also available for basic "meet and greet" services if you'd prefer to undertake some independent travel. Some highly recommended sights to see by independent travel in New Zealand include:
Northland's Waipoua Kauri Forest with its 1,500 year old Kauri trees, beautiful beaches, Bay of Islands, Cape Regina.
Waitomo Canes near Hamilton
Rotorua's thermal mud pools, geysers and Maori culture
Whale watching in Kaikoura.