Discover Ireland's Co Galway & Co Mayo. Connemara is a dream guided biking vacation. Fresh Eire Adventures includes local guides, van support, bikes, hotels & most meals. Connemara is our most popular tour for a very good reason. It boasts a unique glacial landscape which is stunningly beautiful and we use charming inns and hotels that serve outstanding meals using ingredients often fresh from the rivers, lakes and seas you are overlooking while having dinner.
Please see our Blogs for Galway Hotel Recommendations and for Dublin to help with pre and post trip suggestions.
Dates Connemara | Prices Connemara | Included Connemara | Extras Connemara | Reviews Connemara
With the best biking of the Wild Atlantic Way, Connemara is an area of breathtaking beauty; the Twelve Bens mountain range are visible at all times, the Maumturks in the distance, Sky Road, Roundstone (in our opinion Ireland's prettiest village), Kylemore Abbey, Lough Inagh Valley, the majestic Killary Fjord (Ireland's only fjord), Lough Corrib, 13th century Ashford Castle...it's just breathtaking. The back roads we use are quiet and are mostly flat although there are a few rolling hills. Sky Road (optional) is probably the biggest challenge.
The hotels we stay at, and dinners we enjoy are different depending on the package you choose. Both packages include 4 gourmet dinners (one night on your own), 3 delicious pub (or picnic: weather dependent) lunches, 5 nights accommodation with breakfast the next morning. The only diference is our Deluxe Package offers a combination of 4 and 5 star hotels while our Classic package offers a combination of 3 and 4 star hotels.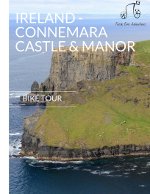 Itinerary
Day 1, Sunday
On Sunday we meet in Galway city centre (your choice of hotel, train station or bus station) and transfer to Maam Cross, just beyond Oughterard, the gateway to Connemara. We'll bike towards the sea, along bog rivers and enormous granite boulders, wild flowers and gorse. You won't be alone of these quiet roads however - you'll be sharing them with sheep! We bike along Cashel Bay and onward to Roundstone; the prettiest village in Ireland where we'll check into our first hotel. Deluxe package guests won't ride as far as Roundstone today; they'll check into their hotel on the Owenmore River, the magnificent Ballynahinch Castle - spiritual home to the ancient and wild O'Flaherty clan! Classic guests will continue to Roundstone where they will stay in the cozy family-owned Roundstone House Hotel. Tonight we'll all dine together in a fantastic local restaurant in Roundstone village.
Classic hotel: Roundstone House Hotel
Deluxe hotel: Ballynahinch Castle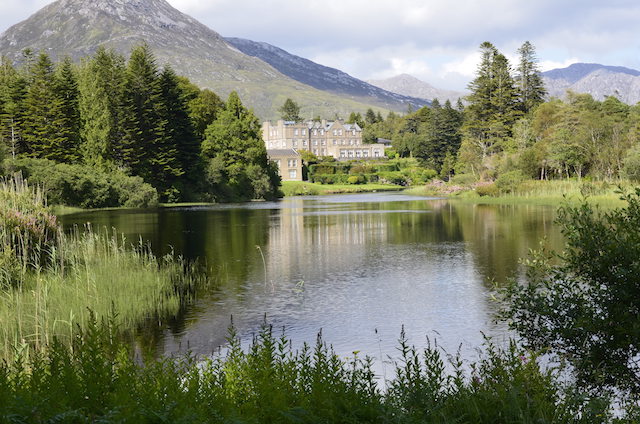 Day 2, Monday
After a 'Full Irish" on your second day, those on the Deluxe package will start biking at 9 am and continue to Roundstone where they will join the rest of the group. Together we'll leave Roundstone and cycle towards the capital of Connemara, Clifden, where we will have lunch in this buzzing market town. Clifden is one of Ireland's newest towns founded by John Darcy in the mid-19th century. Home to the Connemara Pony Show and a thriving arts scene, this unique, brightly coloured town has something for everyone. In the afternoon we'll take the bog road home to our respective hotels. Dinner tonight is at your hotel.
Classic hotel: Roundstone House Hotel
Deluxe hotel: Ballynahinch Castle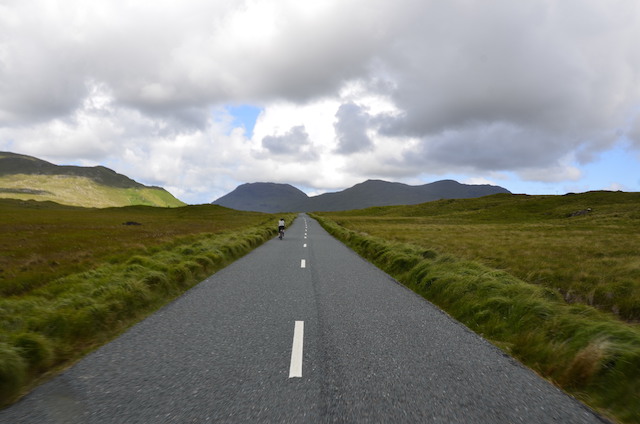 Day 3, Tuesday
After breakfast on our third day, Tuesday, the Classic group will depart at 9.30 am to meet the Deluxe group at 10am at Ballynahinch. We will rendezvous at Ballynahinch Castle and take a brief tour of the gardens together. Afterwards, we'll enjoy a coffee in the Castle Pub before we take off together towards Dan O'Hara's Heritage cottage. We'll enjoy a visit of a Famine-era cottage and learn about the skill involved in preparing turf; the local fuel made from dried peat. Then we'll cycle on a bike path into Clifden. You're free for lunch today and we recommend Mitchell's restaurant, the best in Clifden. This afternoon, we'll ride up Sky Road and enjoy breathtaking views before continuing our ride to a lovely Manor House in Letterfrack, Rosleague Manor, where we all will stay together for two nights and enjoy an exquisite meal.
Classic and Deluxe hotel: Rosleague Manor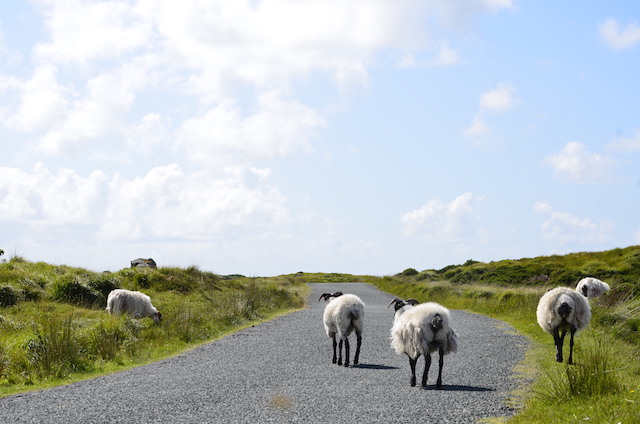 Day 4, Wednesday
The next morning, we'll ride around the Renvyle Peninsula, passing the ruined castle of Grace O'Malley the Pirate Queen, before having lunch in Kylemore Abbey. You'll have time to explore the magnificently restored Victorian Walled Garden, the Abbey itself and visit the ornate mini cathedral. Afterwards, we'll take wonderful hike up Diamond Hill - the views are spectacular! Those with a hankering for a real challenge in the saddle can go on an extra 8-mile loop; Creggs is not for the faint-hearted and extreme caution is advised! Returning to Rosleague Manor, you can relax in the Conservatory or take a seat on on the lawn overlooking the calm water of Ballinakill Bay...the view is even sweeter with a delicious pint of Guinness in your hand. Dinner tonight will be on your own. We'll transfer the group to Clifden where you can choose from a wide variety of restaurants to suits all tastes. Afterwards we'll all meet up and go to a 'trad session" - in an authentic (locals only) pub where traditional Irish musicians gather to play tunes. Be sure to bring your camera as some of the performances are not be missed.
Classic hotel: The Leenane Hotel
Deluxe hotel: Lough Inagh Lodge
Day 5, Thursday
After another wonderful breakfast on Thursday morning, you'll be sad saying goodbye to Mark and Loretta at Rosleague but another great adventure awaits. We'll ride our bikes through Tully Cross and along the Atlantic coast one last time, passing Lettergesh Beach, famous for the horse racing scenes from the movie The Quiet Man, and alongside the tranquil shores of Lough Fee and Lough Muc. We'll sample the finest mussels for lunch in Leenane - you'll know they are fresh as the are harvested daily in the waters of Ireland's only fjord, Killary Harbour, right across the street. We'll then work off our lunch with a fantastic bike ride towards Maam and Lough Na Fooey before reaching our final destination, Cong. Tonight Classic guests will stay at the super stylish The Lodge at Ashford on the Ashford Castle estate, while Deluxe guests will stay in the historic and sumptuous surroundings of the 5-star, 800-year-old Ashford Castle. We'll all dine together one last time in the charming Cullens at the Cottage, a gorgeous thatched cottage overlooking Lough Corrib.
Classic hotel: The Lodge at Ashford Castle
Deluxe hotel: Ashford Castle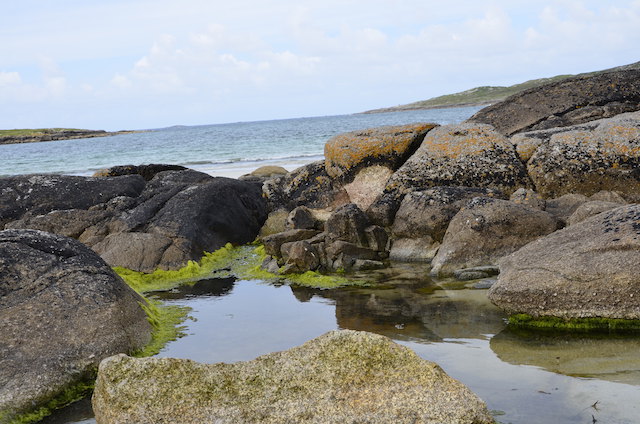 Day 6, Friday
After one final breakfast on Friday we'll meet for an early morning bike ride around the estate and through the forest completing a short ten mile ride. Alternatively, Deluxe guests are free to enjoy a complimentary round of golf. You may book an extra activity such as falconry, archery or horseback riding at 9am. You could also just amble around the estate and appreciate the majestic beauty of the parkland setting overlooking Lough Corrib, or take a stroll through the picturesque village and historic Abbey. We will meet at 11am for a transfer to Galway city where we will, reluctantly, say our goodbyes. You can check out this fantastic city or take a train to Dublin or a bus to Limerick or Shannon.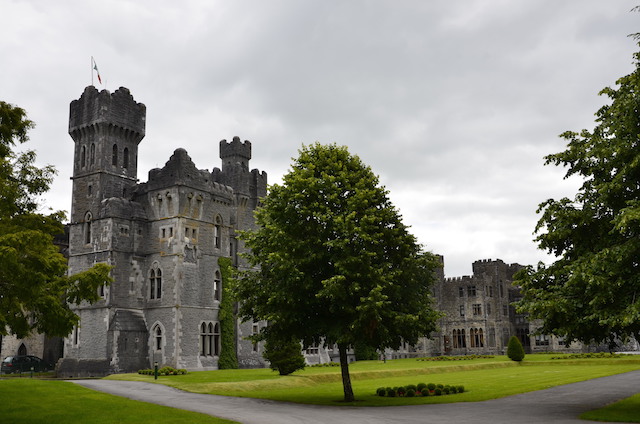 Average daily biking is 25 miles. Pedal on!
"Ireland was on my bucket-list and this was the year to cycle and experience Ireland. Padraic Doorey, Fresh Eire Adventures, expertly curated a Deluxe cycling and gastronomy cultural experience that exceeded our expectations. We cycled Connemara, western Ireland, and discovered a landscape of glistening waters: sea, rivers, fjords, inlet bays, coupled with acres of lands covered with heather, shrubs, and glacial rocks on rolling hills flanked by mountains. The skies with hues of blues and gray were ever changing with the coastal winds. Doorey is the consummate Ambassador for Ireland."
- MBD, Brooklyn, New York. Connemara Deluxe April 2017.
Great value extension packages available in exciting cities like Dublin, Galway, Limerick and Cork. Other options include the Cliffs of Moher & The Burren, or the Aran Islands. You can avail of these either as a pre-trip or post-trip option. Please see the tabs on your right for more details.

---
Dates Connemara
Any start dates available upon request (subject to availability)
Prices Connemara
Classic: US $4,395 pps. Single supplement US$500
Deluxe: US $5,495 pps. Single supplement US$800
Classic accommodations include 3 & 4 star hotels. Deluxe accommodations include 4 & 5 star hotels.
Included Connemara
Use of hybrid bike and helmet. More about our bikes
Transfers from Galway on start/end day
4 exquisite dinners & wine
3 gourmet lunches & wines
Admissions to all included attractions & tastings
Baggage transfers
Tips for hotels/restaurants
Healthy snacks, water, full guiding services, support vehicle.
5 nights B&B in 3 & 4 star (Classic), 4 & 5 star hotels (Deluxe) with Full Irish or Continental breakfast daily
Extras Connemara
Upgrade to a carbon road bike or e-bike at extra cost. More about our bikes
Self-guided extension packages available in Galway, Dublin
Gratuities for guides
Golf club hire (you are welcome to bring your own of course!)
Additional guided services or Fresh Eire Adventures packages
Reviews on this Tour
Fresh Eire Adventures: Connemara Castle and Manor Bicycle Tour
on
My husband I recently returned from the Connemara Castle and Manor Tour cycling vacation with Fresh Eire Adventures led by owner and guide Padraic Doorey, http://fresheireadventures.com/adventures/ireland/connemara-castle-a-manor-tour We have taken more than 15 bike tours over the years all over Europe with a number of different active travel companies, and all of them have been wonderful experiences, but this Connemara trip was exceptional. We found Fresh Eire Adventures when the Connemara tour with another company was fully booked, and we were a bit leery about signing up with a small, Irish company we had never heard of. But after talking about the trip with Padraic by phone, we felt more confident and we are so glad we took that small leap of faith. Here's a few of the things that made the tour with Fresh Eire Adventures a cut above the rest... First of all, the beauty of the Connemara is indescribable and the routes chosen by Fresh Eire Adventures were just breathtaking. We biked along a small coastal roads, sharing the roads mainly with sheep. Secondly, the level of support and guiding provided by Padraic during the tour was awesome. The support van was always available. Padraic was a wealth of historic and cultural information, delivered at the appropriate times throughout each day. And I think Padraic knows half the people in Ireland personally, and so when he found out we were interested in dogs, he arranged for us to visit a master sheepdog trainer; when he heard my knee was acting up, he arranged for a physical therapist to come to our hotel that evening, ... Finally the accommodations were first class, chosen for their beauty and charm; and likewise the food and wine were exceptional. And a bonus -- the wines (and I'm talking good wines) are included in the price of the Fresh Eire Adventures' tour unlike any of the other tour companies we've experienced. [See full review on Tripadvisor]
Rating:
5

Related Posts From Our Blog
Click here to see the cafe and restaurants recommendations for Dublin
Click here to see the three day top trips in Dublin
Click here to see attractions hotels and restaurants in Waterford
Click here to see the recommended hotels in Galway
Click here to see the recommended restaurants in Galway
Click here to read about Ashford Castle Estate
Click here to read about the history of Ballynahinch Castle
Click here to read about Grace O'Malley, the pirate queen
---