Here are our top Attractions, Hotel & Restaurant recommendations for Prague; ideal as a pre-trip destination for our
Prague - Vienna Bike Tour - Vienna Bike Tour
Golden Well Hotel
The Golden Well is a 5 star Hotel located under the Prague's Castle walls. Close to the Royal Garden of Prague Castle, near from the Charles Bridges and in front of the Parliament, the Golden Well is a relaxing and comfortable place for a night or two. The Hotel was built in the 16th century and today it's simply the best luxury hotel in the city. From Spring to Autumn guests can use the private entrance of Rudolf II to the Royal Garden of Prague Castle.
v We can also recommend the 4 star Panorama Hotel or the 3 star B&B Hotel Prague City.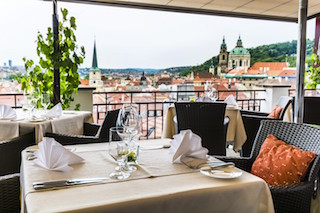 Portfolio Restaurant
Elected the best fine dining restaurant in the city, the Portfolio combines high quality food and a charming environment. After a long and exiting day visiting Prague, enjoy a delicious dinner comprising of many local products.
v And excellent affordable informal alternative is the restaurant St Martin.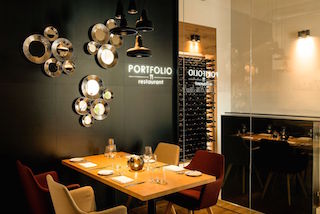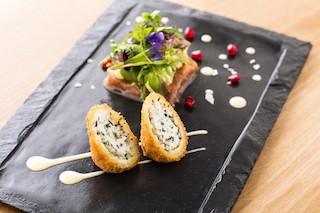 Royal Garden of Prague Castle
Located in Prague Castle, the Royal Garden is a stunning renaissance park that was founded in the middle of the 16th Century. Spend an afternoon strolling alongside exotic plants, the singing fountain and visiting the infamous tennis room - an homage to the origins of the game.
The Clam-Gallas Palace
The Clam-Gallas Palace, located in the Old City Centre of Prague is inspired by the early 18th century baroque style.
Charles Bridge
The Charles Bridges is the oldest bridge in Prague. It was constructed in the 14th Century and its name refers to the famous Holy Roman Emperor Charles IV. Full of musicians, artists, caricature painters and all kind of Bohemians, the Charles Bridge is a fascinating place for a short stroll. Be sure to make a wish midway when you are midway across.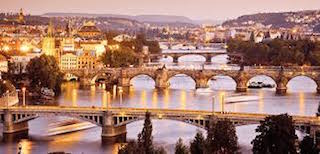 Plevel Restaurant
The Plevel is one of the best "Vegetarian friendly" restaurants in Prague, which focuses on organic seasonality, the food is mainly prepared with home grown produce. The restaurant offers both traditional and unusual meals made with exotic ingredients. The interior is pleasant, simple and relaxing.
Padraic, founder and managing director of Fresh Eire Adventures, tried this restaurant and reviewed it on TripAdvisor :
''One of the better European raw food places I've tried...My friend and I shared a hummus platter with some delicious breads, a veggie broth, followed by an enormous serving of noodles and raw veggies. I also tried a delicious French Sauvignon Blanc. Service was fun and friendly and our check was minimal. Bathrooms were spotless. Recommended.''
Majestic Plaza Hotel
The Majestic Plaza is a basic 4 star hotel that we can suggest in Prague. The hotel was built with the joining of two interconnected historical buildings that now offer 182 wonderful rooms in Biedermeier and Art Deco styles. Located in Skolska Street, the first building (from 1880) is the deluxe version. It is composed of 50 spacious and sumptuous rooms. The other construction (from the early 20th century), located in Stepanska Street, offers 132 rooms that are clean, comfortable and fully equipped. Between both, you can enjoy the large and freshly redecorated open-terrace, which is uses especially for breakfast, lunch, dinner, coffee break or any other guests distractions. You should also spend a moment in the private pool centre, which has a Sauna, a Turkish Hamman and various relaxing whirlpools.
Padraic, owner of Fresh Eire Adventures, stayed here to evaluate it for future guests. Here is his review from TripAdvisor :
''I stayed here for a night recently; check in was very straightforward and the lobby expansive and impressive. Lifts are behind a separate lobby door operated by a key card - so if you are expecting guests you must go downstairs to greet them. My room had an abysmal view - effectively a light well overlooking a roof. Grim. The room itself however was very good; excellent bed, excellent bathroom with good quality linens and towels. Limited power sockets however. Wi-Fi worked well. Noise from the neighbours room was a little excessive insofar as they weren't being excessively loud, rather the sound proofing was quite poor. I asked for a late check out - 1pm was no problem at all for the hotel. The whole hotel, while well-maintained, is quite old-fashioned and needs updating. The location is quite central but downmarket. Great value for money however - around €50 per night. I wouldn't stay again, nor would I expressly recommend it...however it is not a bad option. Stayed February 2015, travelled on business."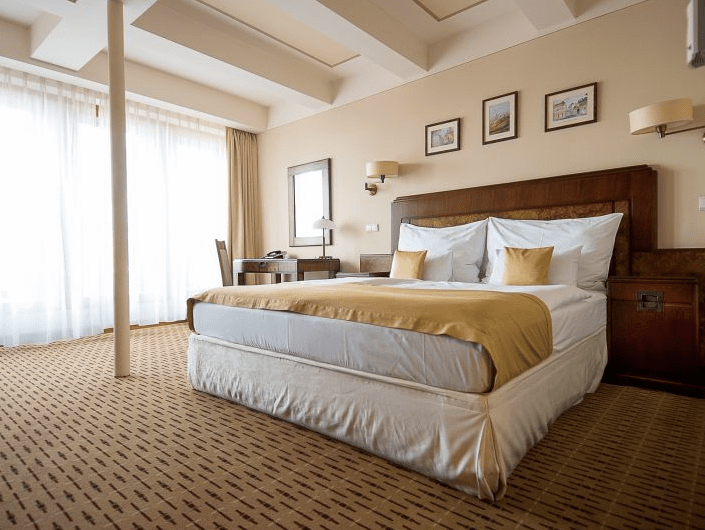 Café Jen
The Café Jen is pleased to offer only high quality products and homemade food & drink. Located in the Vrsovice, The Jen is an excellent and relaxed café that could qualify as a boutique coffee-roasting house. The work team and the waiters are really friendly, knowledgeable and the service is well known across all of Prague.
Here's a review from TripAdvisor of Café Jen by Padraic, owner of Fresh Eire Adventures :
''Delicious eggs, wonderful coffee and friendly helpful service, Cafe Jen is one of those wonderful little neighbourhood cafes which make me envious of those who live in cities. Our simple breakfast of scrambled eggs and toast was clearly made with loving care - and so tasty!''
Per Te Restaurant
Located on Korunni Street, 150 meters from Church of Saint Ludmila, Per Te ("for you" in English) is one of the best Italian restaurants in Prague. Its aims to highlight Mediterranean flavours using exclusively high quality meats, fresh fish and natural greens or other ingredients such as fresh Italian pasta and so on. The restaurant received the TripAdvisor Certificate of Excellence in 2015.
Here's a review from TripAdvisor of Per Te Restaurant by Padraic, director and owner of Fresh Eire Adventures :
"This excellent, authentic and stylish modern Italian restaurant has a lot going for it. First of all it's location is fantastic, the area has lots of bars and restaurants from which to chose. Our server had a turn of quite odd comedy when presenting us with our menus (in Czech with English translations); a series of 'jokes' which fell flat and had no punchline... Both myself and my friend ordered the shrimp salad (179 CZK) to begin; excellent, succulent shrimp well presented in a pretty ordinary salad. For our mains I ordered Tagliatelle with Rocket and shrimp (185CZK) - this was excellent and served in a light oil dressing with some sun dried tomatoes. My friend ordered the Spaghetti Carbonara (159 CZK). I had a couple of glasses of excellent house Montepulciano (40 CZK per glass) and my friend also had a Pilsner (45 CZK). Our server was watching our table like a hawk - each time one of us put down our fork he was over asking to clear the plates...very annoying after a while. The ambience was very laid back; a few romantic couples and a large group were having some sort of celebration. However, if you are a sensitive non-smoker you will be a little surprised to see people smoke with gay abandon inside the restaurant; it's quite some time since I saw this in a European restaurant and, in times gone past (as an ex-smoker myself) I would once have loved this. Our bill came to 827 CZK which we rounded up to 900 CZK to include tip. In Euro this was €33. Amazing value for money."