Ireland's Beer Necessities
Despite the country's renowned love for stouts and international beers, Ireland has witnessed a rapid rise in the popularity of craft beer. Amateur brewers have been investing time and money in mastering the art and creating a brand new career path. We have taken a look at a selection of craft beers and breweries in the east of Ireland to find out why we should challenge our taste buds and try some alternative and unique beers
Trouble Brewing
in Co. Kildare has become one of Ireland's more recognized craft beers. Set up just over 5 years ago by three beer-loving friends, Trouble Brewing now produces a trio of delicious beers; the smooth and refreshing Deception Golden Ale, a smoky Dark Arts Porter and the strong, full-bodied Sabotage India Pale Ale (IPA). Things have been going so well for the lads that they outgrew their original premises and moved to nearby Kill. Trouble Brewing is availble throughout Dublin and select locations around the country.

While there are many newcomers to the craft beer sector who are still showing their I.D's at the door,
O'Hara's
from Carlow, are more like the old man sitting at the bar ready to offer guidance to those in need. O'Hara's have been brewing since 1996 but largely for export, however, their popularity in Ireland has grown in more recent years with their beers now readily available around the country. They have a wide range of drinks, while also boasting the award winning O'Hara's Irish Stout. The roasted malts, dark chocolate and light bitterness offer a true taste of Irish Stout to drinkers.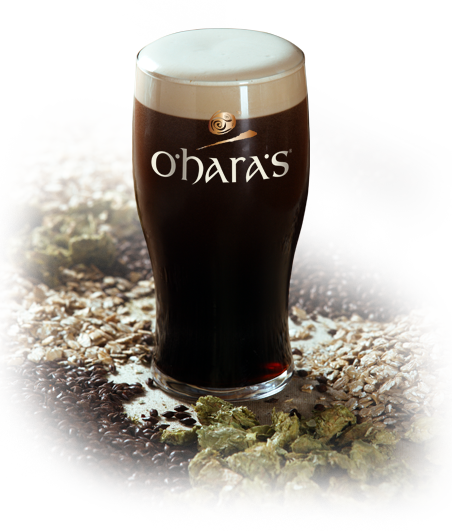 The story of
Clever Man Craft Beer
sprouted in Chicago, blossomed in Wexford and had a generous watering of Texan influence along the way. Malcolm Molloy and his Texan wife Andrea met in Chicago but relocated to Wexford where they started brewing. Clever Man currently offers four different drinks, with new additions on the way, all of which are named in honour of a clever Irishman from the past. Ejector Seat, is named in tribute to Sir James Martin, inventor of the ejector seat, is described as "full-bodied with a depth of stout flavour and slightly dry finish"
The increased thirst for craft beers in Ireland has not gone unnoticed by the big-boys of the beer market.
Guinness
have realised the ever changing taste buds of beer drinkers and began developing their own range of craft beers as part of their Brewers Project. The third creation of the project is Hop House 13 Lager. It is named after an early 1900's hop store building at St. James's Gate and is available throughout Ireland. Described as a distinctive golden lager, Hop House 13 is full flavoured while still being crisp and hoppy (but not bitter) with a refreshing clean finish.

Twelve Acres from Carlow is a Fresh Eire Adventures favourite and is proudly featured on our
beer tastings
during our Ireland bike tours. Founded in 2013, Twelve Acres became popular very rapidly. Currently, they have four beers on offer: Rya India Pale Ale, Single Malt Lager, Golden Harvest Pale Ale and 12 Acres Pale Ale. These beers are all made from their own ingredients, which they grow on their own farm. Their outstanding hard work paid off in 2017 when they got the bronze medal at the Dublin Craft Beer Cup, they were finalists at the Irish Food Quality Awards and they were nominated for the Carlow Food & Beverage Producer Business Awards in both 2016 and 2017.