Wexford Garden Trail
Welcome to the
Wexford Garden Trail
, located in what is traditionally known as the Sunny South East. The largest of the province of Leinster's 12 counties and bounded by the Atlantic Ocean to the south and to the east by the Irish Sea. The River Barrow forms its western boundary; the Blackstairs Mountains form part of the boundary to the north, as do the southern edges of the Wicklow Mountains. Only an hour's drive from Dublin, it is also home to the busy port of Rosslare.
The gardens reflect both the history and the diversity of the county and its landscape. Some of the gardens were originally laid out in the 18th and 19th century while others were begun just 10 years ago. The larger public gardens provide an ideal outing for all of the family, the smaller private gardens will give you not only an enjoyable and relaxing afternoon, they will also introduce you to the large range of plants which can grow in this temperate region. The trail includes Specialist Nurseries for the more unusual plants and, spread through the county, award winning Garden Centres who will provide for all your garden needs.
The owners of all of the garden locations on the trail will be happy to welcome and assist you with any information you require to enjoy your visit to Co. Wexford.
Ballinkeele Garden
Mature trees and
rhododendron
form the backdrop for the woodland walk around the lake and through the parkland.
There are two walled gardens
which are gradually being brought back to use. One is planted with roses, shrubs and perennials and the other is a productive garden with old apple and plum trees as well as vegetables.
Ballymore Schoolhouse Garden
A two acre
site
with a large Oriental Temple Garden including a traditional teahouse, stone bridge, traditional stone lanterns and a
Moon Gate
. Other features include the spectacular Laburnum walk complete with a Zen waterhouse, which runs through it, a decorative Potager, a Mirror garden and the peaceful Dell Garden.
Colclough Walled Garden
The walled garden
was built by the Colclough Family in the early Nineteenth Century. Restoration work began in July 2010 and the original layout of the garden has been reinstated as it was in 1838. The main features of this 2.5 acres stone/brick lined walled garden include curved corners, two intra mural structures on the dividing brick wall which splits the garden in two sections, east and west. It is a work in progress.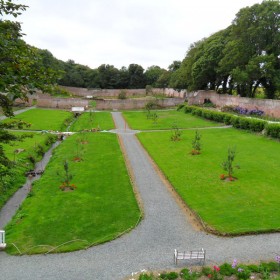 Glenavon Japanese Garden
This one acre garden, created over ten years, on the challenging clay Macemore soil, depicts the four seasons and is centred round a beautifully recreated Japanese pavilion. Stone lanterns, statues and other features accentuate this theme and a Liquidambar walks flanks one of the perimeters. There is also a craft shop.
John F. Kennedy Arboretum
John F. Kennedy Arboretum
is dedicated to the memory of John Fitzgerald Kennedy,
35th president of the United States of America
until his assassination on 22nd November 1963. It consists of 622 acres including 4500 types of trees and shrubs, 200 forest plots, rhododendrons and dwarf conifers. They offer exhibitions, guided tours, signposted walks, lake, cafe & miniature railway (seasonal) and also a playground and picnic area.
Johnstown Castle
Johnstown Castle
was built by the Esmonde family who came to Co. Wexford in 1169. It was then acquired by the Grogan family who developed the castle, grounds, lakes and estate to what we have today. The walled gardens and hothouses, covering 4 acres, were originally laid out between 1844-1851 and retain their early design today. Pathways throughout the grounds meander through the woodland garden and around the lakes. The sunken garden is now a picnic area located close to the car park.
Kilmokea Gardens
These peaceful spiritual gardens
of seven acres are beautifully laid out around an attractive Georgian house overlooking the river Barrow.
Topiary
, lawns, herbaceous and mixed plantings combine with architectural features and ornaments to provide an echanting series of enclosures. A water garden extends into woodland planted with rare and tender trees and shrubs. The organic fruit and vegetable garden has been opened to the public in 2017.
Kilmurry Nursery & Garden
Beautiful herbaceous perennial
garden
developed over the last ten years on 1.5 acres and includes large orchard and vegetable area in an informal setting. This garden, planted for colour and scent, provides inspiration and ideas for planting combinations. Attached to an award winning nursery where a huge selection of plants is available.
Lucy's House & Garden
This two acre garden is in two parts, the original area is now the vegetable gardens but includes some wonderful trees, over the past 20 years, the additional field has been transformed into a large lawned area, long borders of trees, shrubs and herbaceous and individually themed island beds and features, incorporating a wide selection of planting styles.
Marlfield House & Garden
Surrounding a beautiful regency period house, the
garden
and grounds extend to 36 acres. Woodlands form the back drop to meandering paths through an extensive kitchen garden of herbs, vegetables and fruits. Long borders of shrubs and herbaceous perennials flank a
yew
hedge and lead to the lawns and formal gardens. The lake and wildfowl reserve from a completely separate garden to the front of the hotel and the island, reached by a wooden bridge, has beautiful specimen shrubs and trees.
Monksgrange Garden & Norman Gallery
Supplanting the original 18th century garden, the current layout was completed in the 1920's. A folly castle built in 1822 adds an air of history to its surrounding garden. This garden contains wonderful specimen trees and shrubs, and a collection of
azaleas
and rhododendrons. Peaceful paths meander along a natural stream where ponds, small waterfalls and sculptures create interest and calmth.
Newtownbarry House, Gallery and Garden
Parts of the
garden
which date back to the 18th and 19th century have been recently restored; the Sunken garden approximately two acres, is a colourful walled garden which includes a formal oval pool, a fountain and a series of borders filled with shrubs and herbaceous perennials, enclosed by lines of dwarf hedges. Mature trees, a rose garden and a lake complete the picture.
The Bay Garden
This two acre
garden
surrounding an 18th century farmhouse has been developed over 20 years from a neglected orchard and field creating an array of different areas. From the main lawn, with its serpentine mixed borders, one is led to the Cottage & White Gardens, the Rose Garden, Hot & Funereal borders, Pond Garden, Barn Garden, Woodland & Bog garden and finally the Vegetable Garden.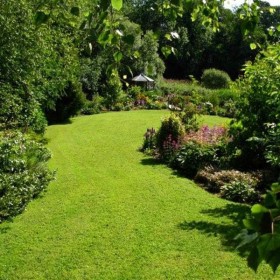 Tombrick Gardens
The garden has been developed since 1989 from a green field site. A wide variety of trees now shelter this 1.5 acre plot which includes an orchard, a woodland are and borders of herbaceous perennials, roses and shrubs combining to create a tapestry of colour. Water from a nearby stream has been used to create a number of ponds around which are areas for ornamental poultry to wander freely.
Woodville House Gardens
A Victorian walled
garden
, 1.2 acres in size with conservatories, vegetable garden, fruit trees, herbaceous borders and lawn. A striking feature of the garden is the original box hedging proudly maintained by the present owner. The garden is also extensively planted with several varieties of apple, pear and cherry. The water garden is tranquil haven of shade and water-loving plants.