Located in Loire Valley, France, one-hour drive far from Paris, Blois is a beautiful city situated on the Loire river banks between Orleans and Tours. It is especially known for the Royal Castle of Blois which attracts more than 300,000 tourists every year and is also the starting place for our Loire Valley Fresh Eire Adventure. Easily reached by direct train from Paris Austerlitz.
Hotels
Hotel Mercure
Located close to the centre of town, the Mercure Hotel is a welcoming 4-star hotel which allows you to get your trip in the Loire Valley off to a great start. Recently renovated, the establishment offers you spa services such as heated swimming pool, sauna, steam room or Jacuzzi to relax in a peaceful atmosphere. A fitness gym offers you the opportunity to exert yourself.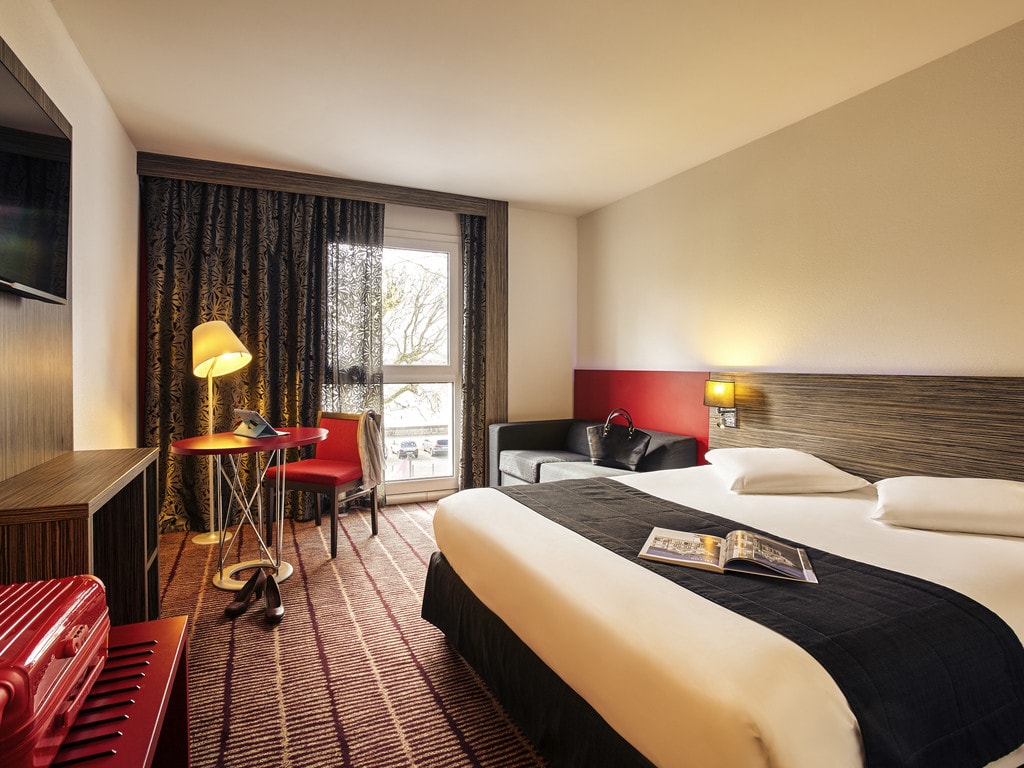 Ibis Styles Blois Centre Gare
A few steps away from the main tourist attractions, the 3-star Ibis Hotel is greatl value for money. Rooms are small but comfortable and quiet to fully appreciate your night. The customer service is surprisingly good for a 3-star hotel. The Royal Castleof Blois is only 9 minutes walk away.
Padraic, owner of Fresh Eire Adventures, stayed here to evaluate it for future guests. Here is his review from TripAdvisor:
"Located on the wrong side of the tracks from the main tourist attractions this Ibis was actually surprisingly good. Bright (if unsurprisingly cheap) decor and cheery competent staff.The room layout was efficient but very small - I was barely able to open my suitcase. Bathroom was especially memorable for its excellent shower and beds were also comfortable. Wi-fi was also strong and overall cleanliness was good. Very little street noise.Unusually I opted to take breakfast at the hotel and was thankful I did. A fine array of cheeses, meats and fruit, breads and pastries, excellent coffee (albeit from a Nespresso machine which they try to keep hidden in an anteroom).Worth the 10 minute walk to the hub. Recommended."
Hotel Anne de Bretagne
Anne de Bretagne is a unique 2-star establishment with its virginia creeper which allows you to relax in a peaceful but charming atmosphere between The Royal Castle and The Cathedral. Rooms have an old world charm decor and simplicity. The hotel offers strong free Wi-Fi. This hotel is an excellent option for a family trip.
Hotel Louise de Savoie
Located in the heart of the city centre, on the right side of Loire river, between the train station and the Royal Castle of Blois, Louis de Savoie is a basic but charming and cosy 2-star hotel. It offers rooms from 1 to 4 persons, free WI FI, a private parking (€8/day) and a reception service from 7am to 10pm. Louise de Savoie is a very good option for a relaxing or romantic stay in Blois.
Restaurants
L'Orangerie
The Michelin star restaurant L'Orangerie, located at the edge of the Royal Castleof Blois, give you the opportunity to sample divine French cuisine in an exceptional atmosphere. Built in the 15th Century for French monarchs, the building has maintained its original features. Chef Jean-Marc MOLVEAUX offers a selection of 4 delicious menus to extend your unique French experience. We recommend the cheese board (extra €5).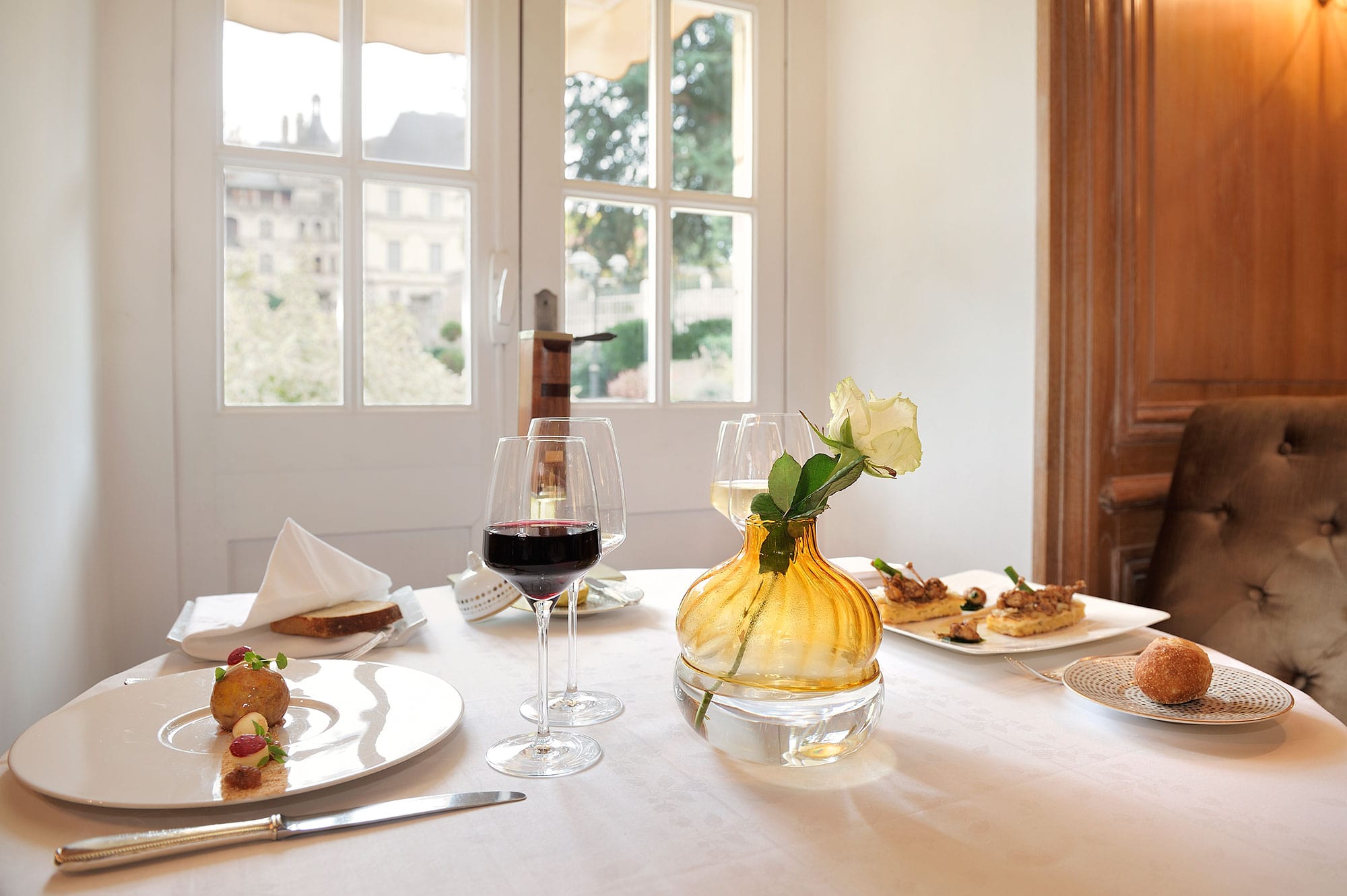 Au Coin d'table
Located in Blois city centre, on the left side of the Loire river, Au Coin d'table is a basic and cosy restaurant for a pleasant and surprising lunch or dinner time in Loire Valley (closed Tuesday/Wednesday). The restaurant offers a delicious gourmet menu for €56, the St Sylvestre. The restaurant gives you the opportunity to discover an affordable but tasty and copious menu for only €17. Au Coin d'table is an ideal way to enjoy a break after spending time visiting Blois but also surroundings. Sometimes there's a cat on the prowl - be warned!
Padraic, Founder and Managing Director of Fresh Eire Adventures says of this restaurant:
"For dinner I recommend Au Coin D'Table (9, rue Henri Drussy); super friendly staff and unfussy menu. Very nice wine list there too (theres an excellent Cotes des Nuits Burgundy red for around €40). There is often a cat roaming the restaurant - be warned."
Le Petit Honfleur
A few steps from the Ibis Hotel Blois Centre Gare, Le Petit Honfleur is a cosy and charming restaurant using mainly local products and focuses on French regional gastronomy. The menu is efficient and the Bouchée à la reine aux morilles is simply gorgeous. The setting is quaint.
Here's a review from TripAdvisor of Le Petit Honfleur by Padraic, director and owner of Fresh Eire Adventures
''We stumbled upon this quaint Normandy style restaurant in an atmospheric and authentic building. My friend had already eaten so while I enjoyed a double serving of the (starter sized) Saint Jacques Cassoulet (at €12 a serving) he enjoyed a glass or two of house wine. Excellent - I will certainly return. Recommended.''
Attractions
Château Royal de Blois
While our Loire Valley bike tour begins in Blois it is important to remember that we do not visit the town, nor its chateau as part of the tour. As such we recommend arriving in Blois the day before your tour begins to visit the chateau.
The first remains of the Royal Castle date from the 6th Century with the Castrum Citadel. The Castle offers a wonderful panorama composed by 4 different facades. Each of them correspond to a specific period of the French story. After a visit the Castle you will be an expert in this fabulous and interesting historical time. In all, the Castle housed 10 Queens and 7 French Kings. The Royal Castle is the icon of the city and such a good place to visit during a sunny afternoon in Blois. It's completely stunning. Remember to charge your camera.