Dates W. Austr. & Sth. Island | Prices W. Austr. & Sth. Island | Included W. Austr. & Sth. Island | Extras W. Austr. & Sth. Island
So, you've come all this way to the Antipodes - why not consider another Fresh Eire Adventure back-to-back?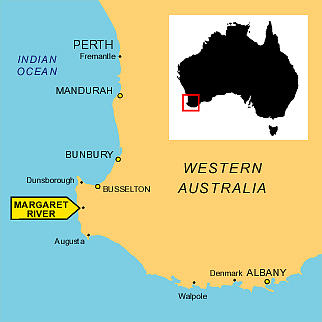 The Margaret River Gourmet Bush Adventure and South Island of New Zealand awaits! Perth is only 7.5 hours flight from Christchurch. By combining both of the best cycling regions in Oceania you can visit New Zealand's South Island & Western Australia's rural outback on a Bike Tour with local guides. Visit Christchurch; Queenstown, Perth. Eco-lodges, enjoy great wines and stunning gastronomy.
How does this work?
- A back-to-back trip is a second Fresh Eire Adventure which starts no longer than 10 days after the end of the first trip. This allows ample time between end and starting points for some independent travel or sightseeing. A simple example of a back-to-back trip would be:
New Zealand / South Island: Feb 3-9
Western Australia / Margaret River: Feb 17-23 or Feb 10-16
- If you were to choose the date of Feb 17-23 for the Margaret River tour then you could combine it with one, or two, 3 night Extension packages in Sydney, Melbourne, Perth or Auckland; that is, in between trips. You could also do independent travel instead between trips.
- If you were to select the date of Feb 10-16, on Feb 9th you would fly directly from Queenstown (1 hour), connect in Christchurch and then fly to Perth (7.5 hours), overnight there and join the Margaret River tour from its starting point the next day (the 10th).
Do I get a discount?
We offer a significant discount for parties of two or more booking back-to-back trips when booked at the same time and paid for in full at time of booking. A trip combining both the Margaret River Bush Adventure and the New Zealand South Island Adventure offers tempting savings to help maximise your time in the Antipodes.
If combining a back-to-back tour with an Extension package, we then offer a discount of 10% when booked at the same time, and paid for in full at time of booking. Talk to us to today to go through your options!
---
Dates Australia and South Island
Any Start Dates Available upon Special Request (subject to availability)
Prices Australia and South Island
START: Articles Anywhere
Classic - US $8595 pps. Single Supplement $1000
Classic accommodations include 3 & 4 star hotels, Luxury Guest Houses, B&Bs, and Luxury Eco-Lodges.
Included Australia and South Island
START: Articles Anywhere
Use of Giant or Trek (or similar) Hybrid bike, Bell or Giro Helmet, handlebar bag, route notes & maps
Complimentary Fresh Eire Adventures water bottle
5 authentic dinners & wines
5 lunches & wines
Admissions to all included attractions & tastings
Baggage transfers
Tips for hotels/restaurants
>
Healthy snacks, water, full guiding services, support vehicle.
6 nights accommodation - 5 nights B&B in 3 & 4 star hotels (Classic) with continental breakfast
Transfers to / from Christchurch
Extras Australia and South Island
START: Articles Anywhere
Self-Guided Extension packages available in Auckland, Sydney, Perth or Melbourne (3 nights from as low as $1299 pps; flights not included).
Gratuities for Guides
Your flights to Christchurch and from Queenstown (tour starts Christchurch and ends in Queenstown)
Tips for guides
Travel Insurance
Vaccinations
Visas

5 days ago. via Twitter for iPad in reply to SethMacFarlane